Dorann Lam's Family Pictures
Click on image for full size picture

---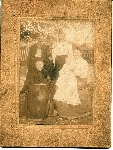 William Henderson Smith family
"The Five-Generation picture"
1907
First generation: The woman seated in the chair on the left is Mary Elizabeth "Betsy" (Yontz) Smith (18 Aug 1811 - 04
Dec 1908) d/o Rudolph Yontz and Sabra Reed and w/o Leonard Smith.
Second generation: The man is William Henderson Smith (30 Sep 1841 - 06 Jul 1925) only son of Leonard Smith and
Betsy Yontz.
Third generation: Woman standing is Mary Elizabeth "Mollie" (Smith) Humphrey (16 Nov 1865 - 02 Feb 1953) w/o Rollie
Elliston Humphrey and d/o William Henderson Smith and Marietta Isadora Catherine Mason.
Fourth generation: Woman seated on right is Dee (Humphrey) O'Neal (01 Jan 1888 - 20 Oct 1988) wife of George
Claborn O'Neal and d/o Rollie E. and Mollie Humphrey.
Fifth generation: The baby is Elizabeth "Beth" (O'Neal) Sakal (18 May 1907 - 19 Mar 1995) m. William Sakal in Akron
OH and d/o George C. and Dee O'Neal.
Picture and information from Dorann Lam
---